Monday, June 20, 2005
THE PEARL OF AFRICA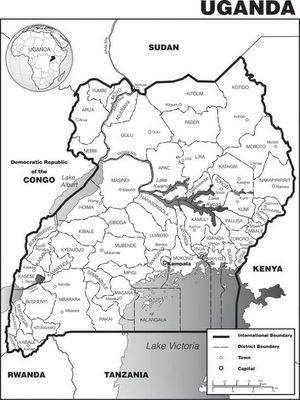 Henry Owera /

Salam Taki
No comments:
Links to this post

Wednesday, June 08, 2005
On a fateful Wednesday, the 27th April 2005, as I was heading for duty, I stared death in the eyes and it winked at me and I at it!
I got involved in a nasty road motor accident and was hospitalised at Mulago Hospital Kampala for a week. This in part explains why I had nearly neglected updating this blog. I wasn't driving nor riding but it did happened. Am Shakur. Shakur is Arabic for: Grateful to God.


Death winked at me! and I at it!
I was rushing for an assignment and chose to ride on a commercial motorcycle - in Uganda they are called boda bodas. My Chauffeur and I, on that fateful day hit a Carib Toyota that suddenly strayed onto our path - it strayed a mere 10 - 15 meters and yet the apparent speed was 50 KPH plus. We were on the main but the Carib that was oncoming chose to turn right into us. In Uganda motorist keep left. We had right of way. But I would dare say the driver of the Carib was disrespectful of other road users - us. And so a wink.
My chauffeur couldn't avoid the collision but luckily it wasn't a head on collision. I say death winked at me.
I could see the accident approaching and instinctively, I organised a diving stunt over the Carib at the incident of our motorcycle hitting the Carib. It was well hatched instinctive plan - in my opinion and it was the best. Am 6 1' and 102 kg (about 220 pounds) and athletic so a diving spree over a motor vehicle and rolling on a hard surface tarmac was was the better option to colliding with the vehicle its self - so I wished but my fate was already sealed. I would put our speed at about 40KPH and for the vehicle at about 15 KPH so the effectiveness of my preparations were determined by a hell approaching at an apparent speed of over 50 K pH. Red.

The collision
What would one expect!? - The collision was

RED!

That would be my honest assessment of the ordeal. I don't remember how it happened and other details. But it happened. But one thing for sure, I hit the Carib and there was blood. Not all causes of death is painful! But I was able to predict my near death in my previous posting and a 2Pac Shakur poem: In the Event of my demise.

I am indebted to those flattering good samaritans who helped a stranger to be able to update this blog. I will try to be good to others so help me oh you the Omnipotent one. Am Shakur! And

NOT

Tupac Amaru Shakur aka Makaveli! Am only being grateful to him who is above.
Henry Owera /

Salam Taki
1 comment:
Links to this post

Reference Services

Archives